Elevate your event with Foot Air's customizable football activities! Experience the thrill of football with our diverse range of inflatables, perfect for transforming any occasion into an unforgettable celebration. Suitable for all ages, our dynamic stands are tailored to meet your specific needs. Explore our personalized soccer animations below for more details, or contact us for a quote or a comprehensive presentation of our inflatable collection. Score big with Foot Air!
Elevate your sporting event with Foot Air's inflatable pitch. The 4-meter-high nets it ensure safety and fast-paced games. With customisation areas, the pitch can be tailored to spotlight your event partners.
Seize the opportunity to utilize Foot Air's 5 vs 5 pitch and host an exhilarating soccer tournament anywhere!
Discover the 1v1 Foot Air arena: a compact 6.5m circular pitch with 1m wide goals. Players can claim victory by scoring 2 goals or executing a skillful nutmeg.
With engaging gameplay, this arena is a must-have for any football event organizer. A guaranteed crowd-pleaser among our mobile structures, it promises an unforgettable experience for both participants and spectators.
Football Darts, a soccer entertainment classic, follows the traditional dartboard scoring with doubles and triples. The 4.50m-high Velcro dartboard allows play on both sides, accommodating larger crowds.
A must-have addition for any soccer event!
Football Curling is a distinctive addition to your fanzone football or corporate seminar! Encourage teamwork and strategic thinking with this engaging football activity, perfect for fostering cohesion among participants.
A tactical game, accessible to all!
Discover foot bowling, a unique twist on traditional bowling featuring giant pins and a soccer ball. Encased within an inflatable structure equipped with a 4m-high safety net, this attraction offers excellent visibility for your partners.
An original feature for your event!
Unleash the excitement of Football Tennis on your event! With its effortless setup and integrated net, it's the perfect addition to your animations lineup. From 1 to 3 players per team, this engaging activity fosters a dynamic and social atmosphere. Make your event a hit with this inflatable!
Animate your soccer fanzone with an adrenaline-pumping power-shooting range! Witness the thrill as a radar captures players' ball speed, fueling friendly competitions and unforgettable moments.
A classic for your events!
Inject excitement into your sports events or professional seminars with our tailored inflatable target shooting range! Foster team spirit and friendly competition while keeping the atmosphere lively and engaging.
A surefire way to make your event an unforgettable success!
Our Mini Inflatable Footall Pitch, a 3v3 arena, offers a compact footprint of just 6.5m by 12m. It guatantees a swift setup, taking just a few minutes.
Ideal for event organizers seeking thrilling 2v2 or 3v3 mini soccer matches.
The activity consists of a ten-meter slalom followed by a shot on a precision tarpaulin.
Opt for training poles or personalize life-size player silhouettes for the slalom experience.
With a fully customizable course that can stretch up to 20 meters, this activity is a versatile and impactful communication tool.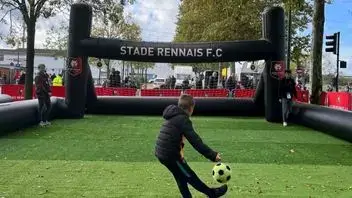 Exciting addition to your event activities: The challenge is straightforward—aim for the top corners of our expansive 7m goal and hit one of the two targets for ultimate victory.
The inflatable goal bar is completely customizable, providing an excellent opportunity to prominently display and celebrate all your esteemed event partners.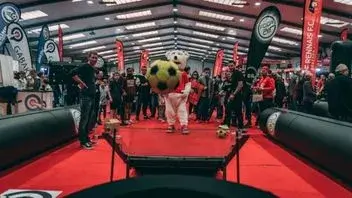 An original activity in which participants have to find the right striking power to succeed in putting the ball into a bin after rolling it along a ramp.
The principle of this game is simple: participants choose a number between 0 and 36 and then try to hit it on the giant target. The special feature of this animation: the target rotates.
The inflatable visual is equipped with Velcro to which the balls are attached.
Exclusive to the Foot Air catalog!
OUR INDOOR / OUTDOOR ACTIVITIES
Integrate Subsoccer into your event for original 1v1 football match around a compact table.
Ideal for limited spaces, indoors or outdoors. A dynamic addition to your event activities!
Introducing our newest product, the Foot Carrom, an exciting fusion of football and Indian billiards. This versatile game is perfect for both indoor lounges and outdoor fan zones, adapting to diverse audiences. Notably, its minimal space requirements make setup a breeze, ensuring hassle-free entertainment anytime, anywhere.

CONTACT US
We will send a personalised quote, and are available to help you choose the perfect products according to your requirements and budget