EQUIPMENT PROVIDED BY FOOT AIR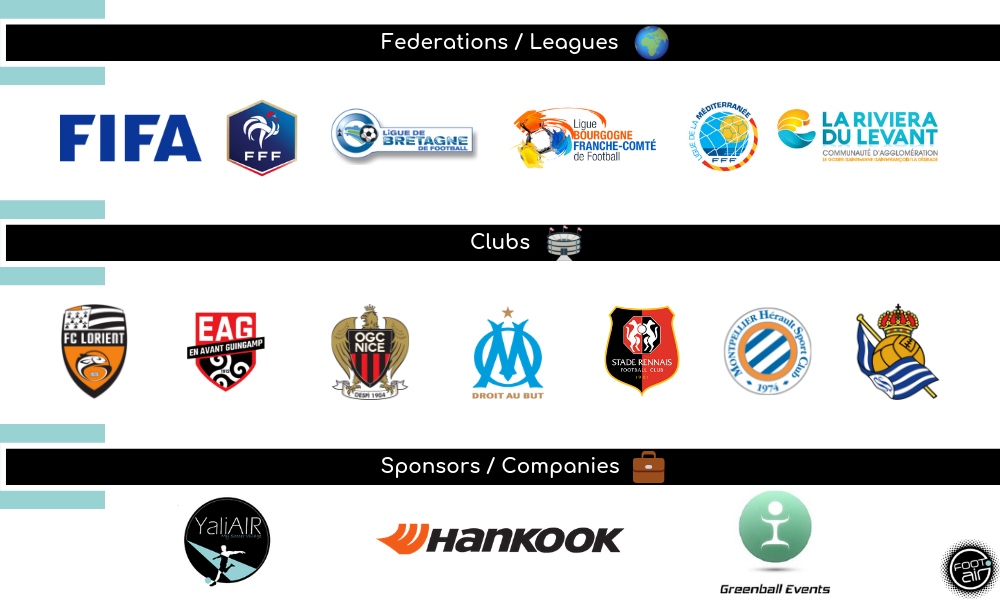 PICTURES OF FOOT AIR'S INFLATABLES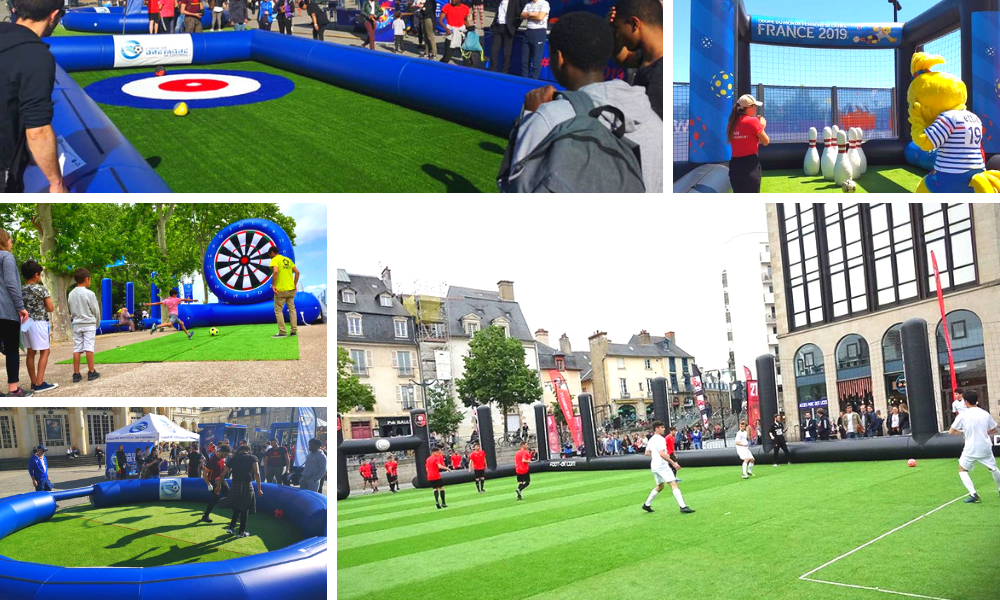 WHY OPT FOR FOOT AIR'S INFLATABLES?
6 reasons for choosing our football equipment
MADE IN FRANCE
This, light yet solid material weighing 275 g/m². High thread density, offering sound resistant with a light PVC coating
The resistance of Foot Air's structures - suitable for use during special events - makes it possible to enjoy all the benefits of the equipment for several years
Life span > 10 years with intensive use.
The quality of our equipment is adapted to your sporting use and professional special events.
This know-how has an impact on visual appeal, which is greatly improved (the light PVC coating avoids the plastic/shiny aspect).
The seams, zips and finishing touches are all studied, and our structures are made by professionals - as per French artisanal know-how.
Foot Air structures are weather-proof (rain/cold/heat). The material is easy in terms of upkeep, and boasts autonomous cleaning.
Products are easy to handle, both in terms of use and logistics
Only one person is required for installing and packing away the inflatables as they are so light, and as the zips and inner ballast system were so ingeniously designed.
Small storage volume required
Foot Air structures comply with all European standards and requirements.
The material has an M1 fire classification > material can be used indoors (example: for your seminars, trade fairs or in shopping centres, etc.)
Permanent inflation via internal and external blowers
INPI patented models.
Ingenious zip, ballast and internal electrical systems (nice visual and ensured safety).
Versatility: Foot Air's inflatables are designed for being or becoming versatile.
The pack is delivered with blowers, ballasts, guy wires, pegs, repair kits, storage bags and instruction manuals.
Foot Air is specialised in football special events, and develops new activity stands every year so you can complete your fan zone installation if required.
Foot Air structures are real communication tools, thanks to their high-visibility advertising insertsPractical attachment system in the structure's most strategic places. The advertising tarps can be switched around between the stands.
All Air Foot products come with a touch-screen smartphone application, so you can view the equipment using software that does quick and precise advertising insert simulations for sponsoring. (Free training for your sales teams).
This application can also be useful for on-site installations, site tours with customers/partners and even planning. We offer an additional service for advertising tarps, with sewn-on Velcro attachments and quick delivery lead times.
All our inflatables are guaranteed for 5 years, and our blowers for 2 years. We have a high-quality after-sales service (cleaning, repair).
All of Foot Air's inflatables come with product training for one or several of your team members.
Thanks to our professional quality, your inflatables will be versatile, visually appealing and functional.
Receive a personalised quote
We will send a personalised quote, and are available to help you choose the perfect products according to your requirements and budget