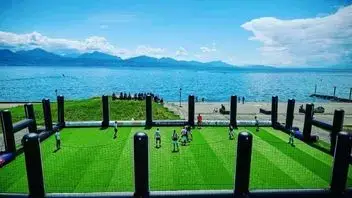 The full service includes assembly, disassembly and hosting of stands, as well as the organisation and refereeing of matches and tournaments.
The inflatable structure is fitted with 4-metre netted walls, keeping the ball enclosed within the pitch to provide increased safety and high-tempo games without any dead time to retrieve the ball.
Foot Air's pitches are versatile and can suit various configurations. Opt for a 5-a-side pitch and make the most of how successful 5-a-side football has become!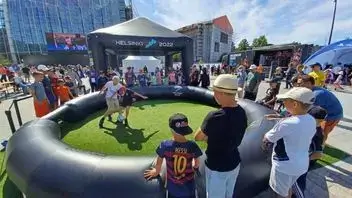 Mini-pitch football rules are very popular with young participants: "2 goals or a nutmeg to win the match!"
The Foot Air mini pitch is a round inflatable structure that is always extremely successful thanks to its street-football look and stand configuration.
This mini football pitch is a must-have among your football activities!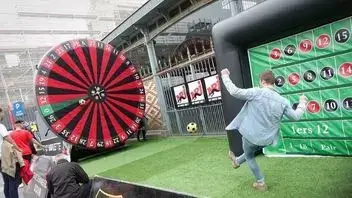 New creation Foot Air! Football or casino fan? You will be thrilled with this roulette wheel!
Place your bets!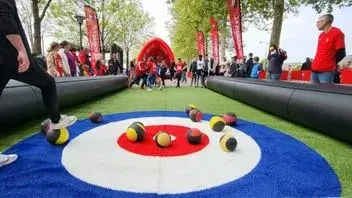 New creation Foot Air! Tactical game, fun and accessible to all ages.
In individual or team, bring your balloons closer to the center of the target to win the game!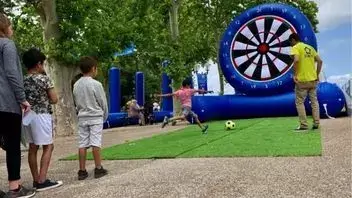 Come rediscover this mythical game! This tall and colorful structure is an ultra fun stand. The parts are fast and are played in 2 shots.It is possible to use both sides of the structure at the same time.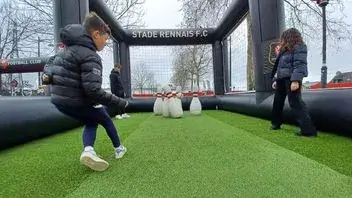 Add a special surprise with the new football bowling activity.
The rules are simple:
Make as many pins as possible fall down in just 2 shots
Who will get a strike at your event?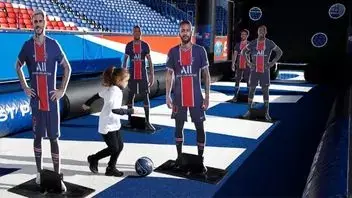 Foot Air innovation : the most technical stand of our brochure !
Try to slalom and dribble around « players silhouette » and assess your precision while shooting in the target !
The size of the inflatable structure is adjustable and customizable which makes this activity a real communication tool.
Silhouettes are also totally customizable : shape and imagery.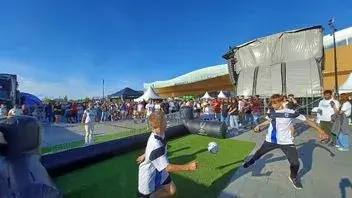 Self-standing structure with integrated net.
Football tennis is a stand that is both technical and entertaining to watch, and has proven to be very popular.
With 1 to 3 players per team, football tennis is great fun.
All together for the win!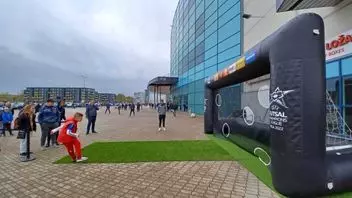 Include a target shooting stand in your events.
This fun activity assesses the precision and pace at which players can hit the ball. Participants can challenge each other on a friendly stand.
A classic for all your events!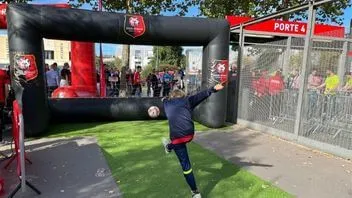 Make your football village complete with a power shooting stand.
With a precision of +/- 1 km/h, participants can gauge their shooting power and challenge anyone who feels up for it.
This stand is accessible to all and is always a great success at events.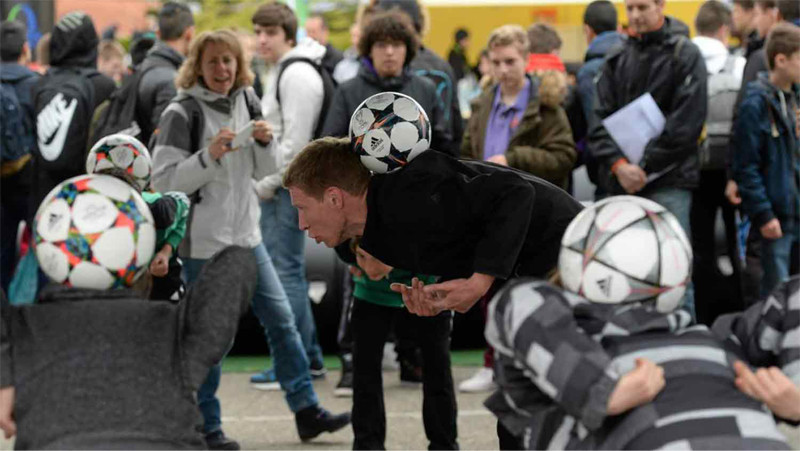 "Freestyle football is a blend of football, juggling and dance."
Stand supervised by one or more professional freestylers, specialised in teaching this sport.
Suitable for beginners or to perfect your skills, learning a wide range of technical moves thanks to our freestylers' experience.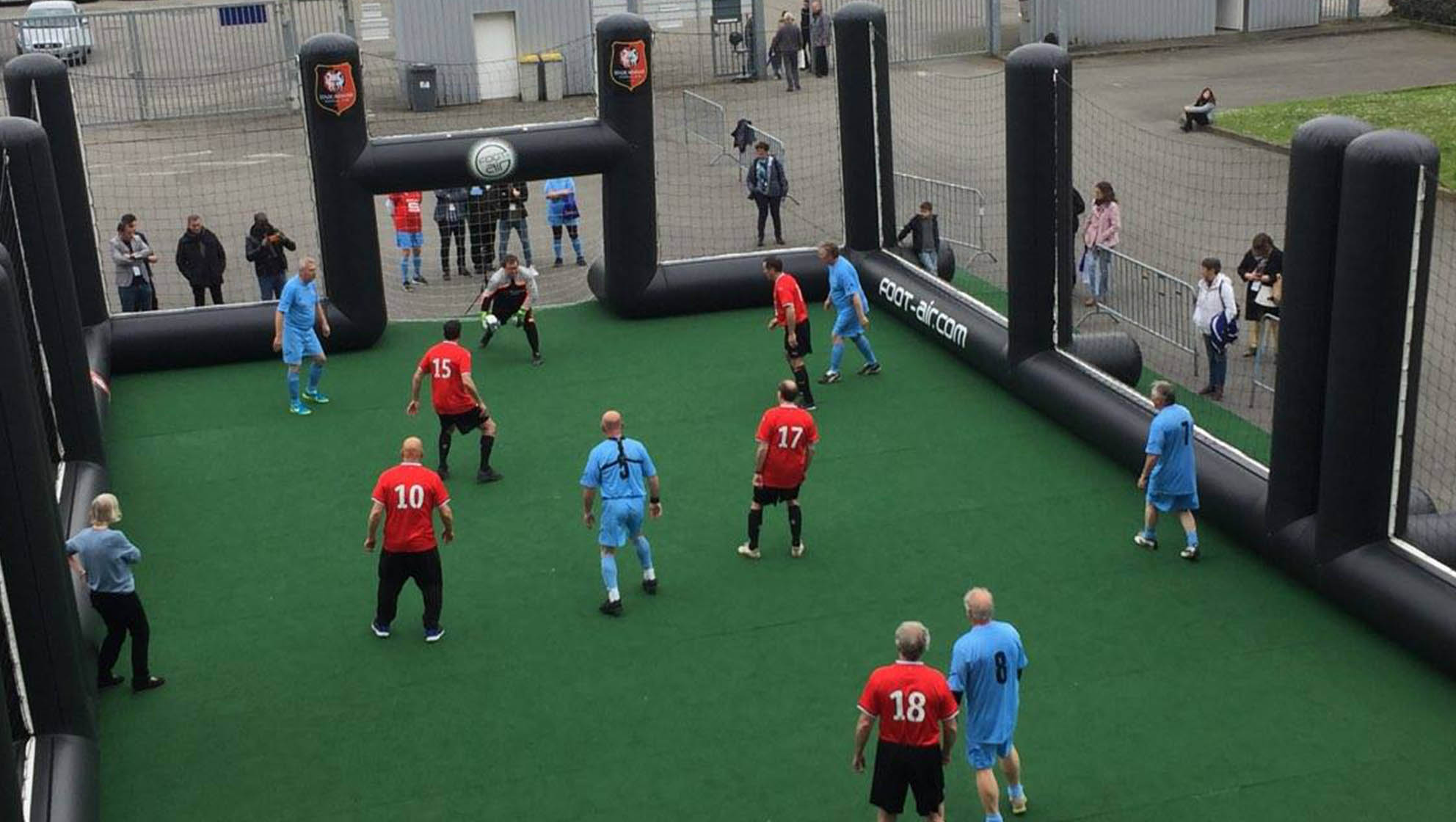 The Walking Football looks like the five-a-side football but it is forbidden to run
In case of offence, the opposing team gets a free kick.
The Foot Air inflatable pitch offers similar game conditions as an indoor soccer centrer for your events.
SERVICE PROVIDER WORKING FOR :
Club events, club birthdays, fun training sessions, out-of-town training sessions, pre-matches, fan zones
Removable advertising tarp
Sound system
Professional freestylers
Goodies
Advertising flams
Speaker
Drons shots